Milan Dobson - Regional Manager (Waikato)
Hi, my name is Milan Dobson and I am originally from Shiraz, Iran where I completed my medical training at Shiraz University in 2003. After my study, I worked as a Family Physician/GP and as a medical officer in the Paediatric and Cardiology wards for 7 years. During this time, I also worked casually training First Aid tutors for the Red Crescent Organisation of Iran. 
In 2010, I moved to beautiful Wellington, New Zealand and I worked for the Red Cross as a First Aid Instructor. Four years later, I moved to Hamilton and became the Senior Instructor for St. John Central and later joined TUI medical as a Physician Assistant to work towards my medical registration. In 2019, I joined the team at Life Care Consultants as a Health Consultant tutoring and performing health checks.
Recently, I was promoted to the role of Waikato Regional Manager which gives me the opportunity to support Waikato Health Consultants. I am passionate about helping  local businesses get the health services and training they need to better protect and upskill their staff. 
I am married to an English military veteran who served both in the UK and NZ military and we enjoy spending time with our pets, water sports, and hiking.
Dr Steve Taylor - Company DR (MbBs MRCGP Dip Occ Med Dip Derm FPC)
Hi, I'm Steve the Company Doctor at Life Care Consultants.
I am a General Practitioner who qualified in the UK many years ago and worked full time in General Practice for 25 years before fulfilling a dream and coming to New Zealand.
Whilst working in the UK I developed an interest in Occupational Medicine and undertook the Diploma in Occupational Health.
Since arriving in Tauranga I have been working in General Practice but I have also been doing pre-employment and health surveillance medicals on a regular basis.
Dominique Askham - Regional Manager (Northern)
Hi, I am the Regional Manager for Auckland/Northland and I started with Life Care in 2016 as a Health Consultant and moved up to Senior Health Consultant over the next two years. In 2018, I applied for the role of Regional Manager for the Auckland/Northland team.
The thing I love most about working for Life Care is the people. The people you meet every day when you go out to clients, the people you interact with in your classroom and clinic room, but most of all the people you work with every day – the TEAM!
As a paramedic, I am passionate about saving lives. I believe that it's the small things that save someone's life. Knowing what to do in an emergency and doing anything at all is better than nothing. Through our first aid courses and health assessments we get to teach others how to save lives. What could be better than that!
Karen O'Connor - Deputy Regional Manager (Lower North Island)
Hi my name is Karen and I have been with Life Care Consultants Ltd since 2016.
After originally training and working as a registered nurse, I joined Life Care Consultants as a Health Consultant before moving into the role of Regional Manager.
Health and wellbeing is important to me and I feel that what we do here at Life Care really does empower people to look after those important parts of their lives.
I am passionate about helping people find the best health training and service solutions for their workplaces and staff. 
What keeps me happy and healthy? Mornings at the gym, time with my family and walks with my dog.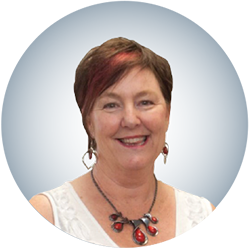 Donna Corboy - Regional Manager (Southern)
I'm Donna Corboy, the Regional Manager for Southern New Zealand. Being a Regional Manager means I do anything and everything within my power to keep things running smoothly down in the South. That could include attending meetings, quality checking paperwork, staff training, staff engagement and budget management as well as the odd bit of cleaning or shopping. It's a varied role, and one that I've been doing happily and successfully for a little over five years.
When I left school I trained as a Psychopaedic Nurse, and taught health and business subjects at Polytech before eventually joining the team at Life Care.
Outside of work, I am passionate about theatre. I once starred in a small movie and performed on stage at the Christchurch Repertory Theatre. One thing the theatre teaches you is to be afraid of nothing!
If you're ever down south, let's chat – I'll buy the coffee!
GAIL THERON - REGIONAL MANAGER (BOP & HAWKE'S BAY)
Hi, my name is Gail Theron and I am the Regional Manager for the Bay of Plenty and Hawke's Bay areas.
My professional background is Paramedics and Psychology, and I love how Life Care Consultants has given me the opportunity to grow and develop in both these areas during my tenure thus far. First Aid and Mental Health First Aid is my passion!
Outside of work, I am a volunteer member at the Alzheimer's Association, as well as Dementia Friends. Whenever possible, I do wellness checks on people who live alone and occasionally help with crisis and suicide helpline assistance.
My home is in Papamoa Beach, Tauranga, where I live with my husband and three beautiful children. We love spending time together as a family and our favourite activity is being outdoors and exploring as much of our new home, New Zealand, as we possibly can.
Wayne Upson - Project Manager & Nurse
Hi, I'm Wayne, the Clinical Manager for Life Care.
 I'm a registered nurse who qualified in Scotland before moving to New Zealand on nothing more than a whim of "this might be a good idea", which I have never once regretted.
While working throughout the UK I gained comprehensive experience in a variety of clinical settings such as acute medical and respiratory, surgical, rehabilitation of orthopaedics, cardiac/stroke, amputees and head and spinal injuries before finding my calling of Occupational Health in New Zealand. In all honesty, if I had found Occupational Health in the UK, I very well may not have made my way here.
Since settling in New Zealand in 2007, I've worked with Life Care through a variety of roles with increasing responsibility, while always maintaining my nurse registration. After many years at the coal face with patients, I now find my true passion has shifted towards developing and supporting the health areas of the business, the people within, and Life Care clients.
I'm happy to say I am now an official Kiwi and get to enjoy family life in Hamilton with my wife and son.
Amelia Lategan - System Manager
I'm Amelia Lategan, the Systems Manager for Life Care Consultants. Being Systems Manager means I do anything and everything within my power to keep our systems running smoothly for our team and customers.  I've been managing our systems happily and successfully since I joined Life Care in 2020.
This year (2022) Life Care are proud to launch our integrated Customer Portal which empowers our customers to self-manage their first aid training bookings, print and, amongst many other benefits, re-print first aid certificates, and request other services.
I am passionate about helping people find the best service solutions for their clients and staff.
What keeps me happy and healthy outside of work?
I'm an artist, love fishing and diving, horse riding and spending time with my granddaughter. My home is in Te Kauwhata, where I live with my husband, two cows and a few sheep. We love spending time together outdoors enjoying the beauty of New Zealand. This has been a great adventure we have been privileged to experience for the last 12 years.
What our customers have to say!