Janet Brothers - Founder, Managing Director
Hi, I'm Janet Brothers and I'm the founder and Managing Director of Life Care Consultants.
There are some things we learn from our parents which we are proud of and they stick with us all of our lives, and other things we learn which as adults we try to 'unlearn' as we recognise that there is a better way of reacting, communicating and behaving.
The things I learnt as a child which I have held on tight to are:
If I feel bad about doing something, I don't do it in the first place: integrity and a clear conscience are worth more than anything.
Fitness and activity are not only good for the body and the soul but also good fun.
Hard work and resilience are traits to be proud of.
As a young adult and a mum I learnt that family comes first:
Sometimes people may not be blood related but they may be soul related.
We never get that day back again so we need to appreciate every day.
No amount of money gives as much pleasure as a close, loving family.
I feel very proud of the work that Life Care has done and the difference we have made to many people over the last 24 years. These achievements have not been about me but about the people I have worked with, both colleagues and clients. Working with some amazing, passionate and positive people makes coming to work each day a real pleasure.
From starting out with only myself as a sole trader to employing over 60 staff it's so nice that when I mention Life Care in a social setting people now say, 'Yes, I know Life Care.'
I am very lucky that I work in an industry which I am passionate about, and while I'm at the helm, our core values will never change as they resonate so well with me – Attitude is Everything – Positive, Fun, Passionate.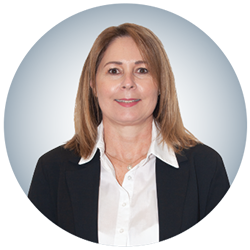 Richelle Rowe - General Manager of Sales
Hello, I'm Richelle Rowe, the General Manager of Sales.
The most important attribute, and one that I live by, is always admit your mistakes, and learn from them.
At Life Care we do our very best to get it right, but sometimes the stars don't align, and for some reason we get it wrong. It's in these situations that all staff are empowered to take ownership and stay humble.
In the 14 years that I have worked with Life Care I have seen a phenomenal shift in the use of technology, and see this to be a continued focus point for my role in the business as General Manager of Sales. Customers and their business are at the heart of what we do, so it's my mission to constantly look at ways to add value so our customers can make better decisions in their own businesses.
In my other life I love spending time with my three boys: husband Stephen, and two young adults Jarrid and Wesley. They really are the centre of my universe, and if you asked either of my children what they think has been the most important lesson they have been taught by their parents, I would hope they would say to treat other people as they would like to be treated. Everyone deserves to be treated with respect.
My passion is travel, and I hope to be privileged enough to see a lot more of this beautiful world before my time is up. I yearn to visit Europe with my husband, having spent the past few years tripping around the greater part of Asia ­– something to achieve in the near future.
Day to day I keep my sanity by doing boot camp three times a week, with walks up and around the Mount regularly.
My daily mantra is keep smiling, attitude is everything. You can accomplish anything if you set your mind to it!
Jo Pennell - General Manager of BUSINESS STRATEGY & INNOVATION
Hi, I am Jo Pennell, General Manager of Business Strategy and Innovation.
I joined the Leadership team at Life Care in March 2019 as Administration Manager and in December 2019 took on the role of GM – Operations. Working with the team at Life Care is a real privilege and I am very thankful to Janet for providing me with an opportunity to take the business to the next level with the introduction of new IT systems and processes.  We are ready to take on this new decade.
My background is in education management and in particular systems and processes leading to simplification of the business and alignment with business strategy. I am passionate about people management:  mentoring, coaching and developing team members gives me job and personal satisfaction, as well as helping Life Care grow.
In my personal time I love to spend time with my family.  I have two small grandsons with another on the way. They are a constant source of wonder to me as their small selves grow and develop.  Seeing the world through their eyes reminds me of how much we all take for granted every day, and a small child cuddled on your lap is the best feeling in the world.
Kevin Ludwig - Company Accountant
Hi, I'm Kevin Ludwig, the Company Accountant for Life Care Consultants.
I manage the administration function of the business and ensure that the Leadership's drive and passion are supported by robust systems, and amazing people.  I can be found most days at our Head Office in Hamilton.
I'm a newbie at Life Care, only joining in June 2017, but as soon as I joined the team I was impressed with the attitude and enthusiasm of the people here.  We truly believe in the company culture and
Our core value "Attitude is Everything – Positive, Fun, Passionate" makes all our working days a real pleasure.  The fact that we can do this while providing amazing service to our clients makes Life Care a real privilege to be a part of.
In my youth I was a sports nut, playing cricket and rugby league to a reasonable standard. Unfortunately time has marched on and these days my involvement in sport is limited to interested spectator status.  For the good of my soul as much as my body I do drag myself to the gym fairly regularly, which allows me to indulge in my other passions – food, wine, and beer!
Cushla Howie - National Operations Manager
Kia ora I'm Cushla Howie the National Operations Manager. 
I have often been described as a catalyst to create change, results driven with energy that is contagious and engaging. However to create true improvement within an organization I know that this does not come from one person, but from the valuing of individuals and enabling the growth of capability of all within the team. 
It is important for me to work in an organization that has a positive impact, one that contributes to a greater good and can make life better for others.  Joining the Life Care team enables me to meet my ideals through working in a company that delivers empowerment for Kiwis to save lives and improve their health and wellbeing. 
With experience in multi-site management, implementation of process improvement and working with the multiple perspectives that workplace diversity brings, I am skilled in creating cohesive, resilient and productive teams with a focus on customer delivery.  We know the importance of a work- life balance, however work enjoyment and the occasional touch of humor, is key to creating daily happiness.
With family as my priority, I manage my time to be available for them, from the time spent at the dinner table, to an overseas family ski adventure or just walking the dog with my kids, I am my most content when I am with them.      
What our customers have to say!